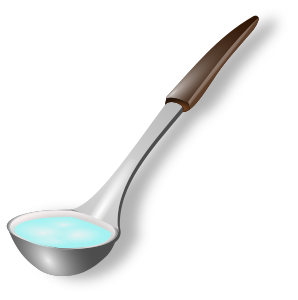 Dzisiaj zapraszam do kuchni... W każdej porządnej kuchni powinny być różne sprzęty... w tym dzisiejszy przedmiot, zwany po angielsku...
LADLE
Chodzi oczywiście - jak zerknęliście może już na obrazek - o łyżkę wazową, albo tzw. chochlę :) Przy okazji warto wiedzieć, że zwrot 'ladle sth' oznacza 'nalać', np. zupy...
A few examples from the Internet:
When the employee deemed the bowl was hot enough (too hot, in fact) he removed the bowl, ladled some soup in and set it in the counter.
Ladle some of the batter into each well of the waffle maker, close the lid and cook for five minutes...

Once, when asked if the vegetable soup was vegetarian, the waitress walked over to the salad bar and ladled some soup up, looking for meat.
Ladle some of the soup into a blender or food processor, taking care...



My question to you:
Do you have a ladle in your kitchen?