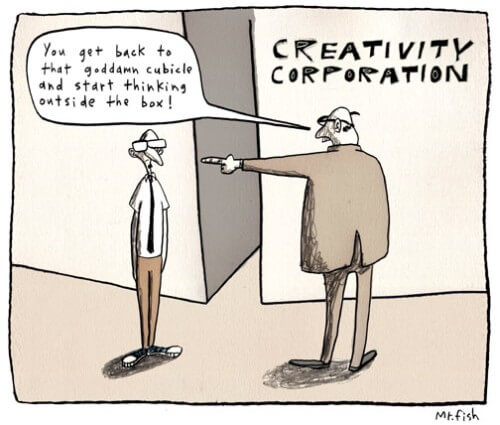 Source:
http://tinyurl.com/o8ulom5
Która z umiejętności - w sensie bardzo ogólnym - jest dzisiaj bardzo ceniona na rynku... nie tylko pracy? Dzisiaj jest sporo osób, które mają skończone to czy tamto...
Niewiele jednak osób ma to coś, o którym chcę dzisiaj powiedzieć parę słów...
Jaka to umiejętność, dzięki której możesz się wyróżnić? Sam staram się ciągle rozwijać to coś, ale nie jest to takie proste... Są co prawda różne techniki, ćwiczenia i sposoby na doskonalenie czy rozwijanie tej umiejętności... ale całe mnóstwo bieżących spraw i codziennych zwykłych czynności często skutecznie zapobiegają wzrostowi w tym właśnie kierunku...
Ale o czym ja tu właściwie gadam? No właśnie... o kreatywności... Skąd biorą się dzisiaj najrozmaitsze produkty i usługi na rynku? Dlaczego dowiadujemy się co i rusz, że wchodzi na rynek taki czy inny produkt, który staje się przełomowy... Podobnie z usługami... Dzisiaj już nic nie jest tak proste, jak niegdyś... Kupując produkt lub usługę kupujemy często wiele rzeczy, które nie do końca da się kupić 'normalnie', takich jak prestiż, szacunek, zadowolenie, satysfakcję, ale często też dodatkowe powiązane ciekawe usługi i kolejne produkty... Wiele z owoców kreatywności sporej rzeszy osób nie zdaje 'testu odbioru' produktu lub usługi z najróżniejszych powodów, ale część z powodzeniem trafia na rynki i kreatywność zaczyna się opłacać, spłacać itp.
Dlatego dzisiaj pytam:
How do you get inspired?
What are the situations, contexts, places and whatever else that could make you feel inspired to create something? In other words, when and where are you most creative? What works for me doesn't have to work for you... Here's a list of my 'creativity prone' contexts... I get inspired when I...
read a good book...
listen to good music...
meet interesting people...
visit interesting places...
ride a bike...
drive a car...
am alone in a remote place...
am at one with nature...
have time...
What about you?