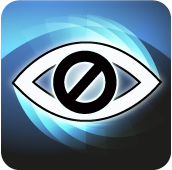 Source: http://tinyurl.com/nndr9hk
Ja znam... Z okiem można robić wiele rzeczy: mrugać, zamykać, otwierać, robić zeza, wytrzeszczać i tak dalej, ale można także oko przymykać...
Oko przymykamy wtedy, kiedy nie chcemy czegoś widzieć i puszczamy coś płazem... tak dla ogólnego dobra... Czasem przymykamy oko - i to ciekawa rzecz - nie, żeby czegoś nie widzieć, ale żeby czegoś nie słyszeć... Ciekawe, nie? Słyszy się przecież czasem, że ktoś przymknął oko na to co ktoś powiedział. Moim zdaniem powinniśmy wprowadzić nowy idiom: Zatkać na coś ucho. :) ... Zamknąć na coś ucho brzmi dość dziwnie...
W angielskim też jest piękny idiom na tę okoliczność, ale nie związany tyle z zamykaniem oka, co raczej 'przekręceniem' oka na coś... Ale, żeby było ciekawiej, nie oka widzącego, a oka niewidzącego, czyli niepełnosprawnego, po prostu ślepego oka... Angielski idiom wygląda tak:
TO TURN A BLIND EYE TO STH
Wyrazy, jakie tu występują to:
turn - obrócić, przekręcić

blind - ślepy

eye - oko
Tell us about yourself! Do you often turn a blind eye to things? What sort of things do you usually turn a blind eye to? Is it fair what you do?